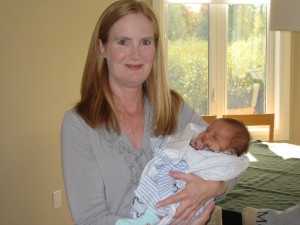 I am a Registered Nurse with a Bachelor of Science in Life Sciences from Queen's University. I have worked as a nurse in labour and delivery, mother and baby care, and pediatrics. It was during my time on the obstetrics unit that I developed a love of working with new families.
I am also the mother of two breastfed children, and after experiencing breastfeeding challenges with our second child, I discovered La Leche League, and a passion for helping other families with breastfeeding. I became a La Leche League Leader in 2007, and in 2009 I wrote and passed the exam to become an International Board Certified Lactation Consultant.
I am a strong believer in meeting families where they are, and helping them to achieve their own personal goals for breastfeeding.
I am a past president of Ottawa Valley Lactation Consultants and a member of:
International Lactation Consultants Association (ILCA)
Canadian Lactation Consultants Association (CLCA)
Ontario Breastfeeding Committee (OBC)
College of Nurses of Ontario (CNO)
Registered Nurses Association of Ontario (RNAO)
I am also available for speaking engagements, please contact me for more information.
Previous Speaking Engagements:
Pembroke Breastfeeding Education Day September 2015: The Impact of Birth Interventions on Breastfeeding, Weight Gain in the Early Weeks, Supplementation of Breastfeeding and Assessment of Tongue and Lip Tie
OVLC Conference 2015: Assessment of Lip and Tongue Tie
GOLD Perinatal Online Conference October 2014: Supplementation of breastfeeding: The impact on the family as a whole and simple strategies to protect breastfeeding exclusivity
Ottawa Breastfeeding Buddies May 2014: The physical and emotional implications of tongue and lip-tie
OVLC Conference 2014: Practical session on baby-led bottlefeeding
Guest speaker and panelist at CHOICE! Birth and Baby Film Festival September 2013: Empowering Mothers During Birth, Breastfeeding and Parenting
Webinar for Ameda September 2013: Social Media: A New Tool for Your Toolbox
GOLD (Global Online Lactation Discussion) April 2013: What do bottles and formula have to do with breastfeeding?
The 62nd Annual Refresher Course for Family Physicians April 2013: Management of Common Breastfeeding Challenges
The Boob Group Online Radio January 2013: Birth Interventions and their Impact on Breastfeeding
ILCA (International Lactation Consultants Association) July 2012: Social Media as a Means to Promote, Protect and Support Breastfeeding
GOLD'12 "Hot Topic" presentation May 2012: Why we Can't be Afraid to Talk to Parents About Bottles and Formula
GOLD (Global Online Lactation Discussion) May 2012: Social Media: A New Tool for Your Toolbox
GOLD '11 "Hot Topic" presentation May 2011 : Breastfeeding, the Internet and Social Media
Ottawa Valley Lactation Consultants January 18, 2011: Breastfeeding, the Internet and Social Media
La Leche League Canada, Ottawa Chapter, Leader/Leader Applicant Day  June 5th, 2010:  Updating the Basics
Ottawa Valley Lactation Consultants June 16, 2009: The Immediate Postpartum Period as a Critical Time for Establishing Breastfeeding Duration and Exclusivity
Guest Speaker at the 2009 Ottawa Breastfeeding Challenge
Ottawa Breastfeeding Buddies November 28, 2008: Birth Interventions & Their Impact on Breastfeeding