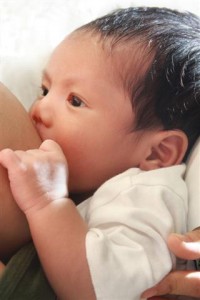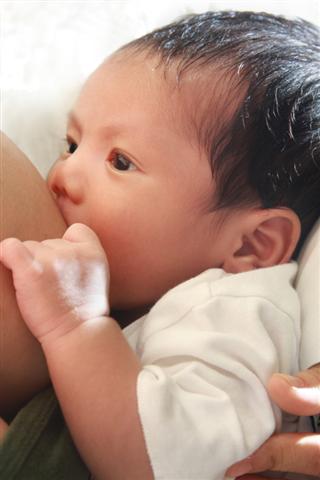 Stating "breastfeeding shouldn't hurt" always draws a lot of comment from mothers who unfortunately did have a lot of pain with breastfeeding. Many mothers who are having pain find that the pain suddenly disappears after a few weeks or months. Why does this happen? Is it simply a case of it being  normal for some women to have pain? As I've mentioned before, I don't think it is. Pain, especially "toe-curling pain" while nursing is NOT normal, but I do know that it is sometimes hard to find an answer as to what is causing the pain.
The most common reason for pain when nursing is that your baby is not latched on properly, but what if your baby's latch seems to be OK? I work with a lot of moms who are having pain with breastfeeding, and they often tell me that they were told by another care provider that their baby's latch looks "perfect" so there shouldn't be any pain. This leaves moms feeling confused, frustrated and feeling like they are doing something wrong. How a baby's latch feels, is far more important than what it looks like from the outside. Some latches do look "perfect" from the outside and yet something is going on inside the baby's mouth that is causing problems (and some latches look "wrong" from the outside, yet mom isn't having any pain and baby is nursing effectively, so everything is good!).  If a baby is truly latching on well but mom is still in pain, the two main reasons for it that I see in my practice are tongue and/or lip-tie and structural restrictions caused by delivery or position in the womb.
Tongue and lip-tie: Many years ago, tongue-tie was routinely checked for, and clipped at birth. As society turned more towards bottle feeding, this practice fell out of favour because tongue-tie doesn't usually cause any problems with bottle feeding (although it certainly can!). Because of this, the knowledge about tongue-tie has been lost and many health care providers know very little about it, or don't see it as a problem. Today, as more and more women are breastfeeding, we are struggling to regain that knowledge because tongue and lip-tie certainly have an impact on breastfeeding.  Posterior tongue-ties in particular, (where the frenulum, or membrane under the tongue is attached towards the base of the tongue rather than the tip of the tongue) are sneaky, and easily missed by many health care providers. If you are having pain with breastfeeding and your baby's latch looks good then it's important to have your baby checked for tongue and lip-tie by someone knowledgeable.
Structural restrictions due to birth interventions or baby's position in utero: This one is largely overlooked, and is probably the biggest cause of pain in those situations where everything "looks" ok, tongue and lip-tie have been ruled out,  but breastfeeding is still painful. Birth and breastfeeding are closely linked, and there are many things during labour and delivery that can have a direct impact on breastfeeding. Birth interventions such as vacuum, forceps or c-section tend to be the most common causes of structural issues, but sometimes even in an intervention free birth there can be structural issues due to the baby's position in utero.
Forceps and vacuum extraction can cause bruising and swelling of the head and face, and due to the pressure exerted, they can cause distortion of the cranial bones. Although a baby's cranial bones are designed to move over one another as baby descends through the birth canal, the forces exerted by vacuum or forceps can often cause shifts in the cranial bones that are not easily self-corrected by the baby after birth. All of these things can cause irritation to the baby's cranial nerves, and it is the cranial nerves that control everything through the mouth and jaw. This irritation can lead to alterations in sucking patterns that result in pain for mom, and/or ineffective milk transfer. These babies may also be generally fussy due to discomfort. Imagine how you would feel if you were pulled or vacuumed out of a tight space by your head!
Babies are meant to pushed out by mom's uterine contractions, so when a baby is delivered by C-section, or even when a well-meaning doctor tries to speed up a vaginal delivery by pulling on the baby, it can cause structural issues within the baby's spinal cord that can affect sucking. It can also result in a strong preference for nursing on one side over the other, pain on one side but not the other, or even an inability to latch at all on one side. Even when there are no interventions during delivery, sometimes the position that a baby is in while in utero can have an impact on breastfeeding. If a baby is stuck in a certain position it can cause tightening of the neck muscles on one side, or even torticollis. I've also seen jaw distortions in babies who spent a lot of time in utero with their hand pressed against the side of their face. Again, these things can cause sucking issues or issues with baby being unable to achieve a comfortable latch/position.
Many of these structural issues do work themselves out eventually, or the baby learns to compensate for the restrictions and is eventually able to nurse effectively. This is why many moms find that the pain eventually goes away. In the mean time though, mothers struggle with unnecessary pain and often a very frustrating breastfeeding relationship. There are however ways to help. Many parents find that in these situations, complementary therapies such as chiropractic care and or craniosacral therapy can make a big difference for breastfeeding. There are other complementary therapies as well such as osteopathy or Bowen therapy that can also be very effective. The important thing to keep in mind that when choosing a care provider is that you want to find someone who is trained to work with babies and has experience doing so. If complementary therapies are not a possibility, or not something you are comfortable with, infant massage may also be beneficial (and is a wonderful way to connect with your baby). If you're wondering whether your baby may have structural issues that are contributing to your struggles with breastfeeding, this article by Dee Kassing provides great information about some of the things to look for. This post from Renee Beebe is a great example of the difference that skilled bodywork can make.