After watching a video of good deeds caught on security cameras, it brought to mind something that I've often thought about. We see and hear so much negativity in the news, in print media and on-line, that it is bound to have an impact on our perceptions of our world. I wonder how different things would  be if we were exposed to more of the positive stories. They're out there, but it's easy to forget at times when we are surrounded by constant stories of hate, intolerance and tragedy. We need reminders that there is still a lot of good in the world.
I feel the same way when it comes to breastfeeding. A while ago I asked the following question on Twitter and Facebook: "When you were pregnant, what did you hear more of about breastfeeding – positive stories or horror stories?". The answer was overwhelmingly that people had heard mainly horror stories from their friends, family and even complete strangers. I think we hear the horror stories because birth and breastfeeding have a big impact on how we perceive ourselves as mothers, and it is something that stays with us. For those who have had a bad experience, it is natural to have a need to talk about it as it is part of the healing process.
What kind of impact does this have though on us as women when it comes to our confidence in our bodies to nourish our children? I believe that it often causes women to doubt their abilities before their child even arrives. This doubt often sets into motion a series of events that can lead to premature weaning, which of course just reinforces the belief that breastfeeding is difficult and not possible for many women.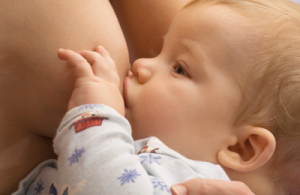 Breastfeeding is a natural event that our bodies are specially designed for, and the vast majority of women are capable of breastfeeding their babies without any problems.  The fact that there are so many horror stories out there is a very sad reflection on the state of today's maternal and newborn care practices. Unfortunately, hospital policies and the curriculums for health care providers are very slow to catch up to what the evidence is telling us is best practice. Many of the current practices in hospital sabotage breastfeeding before it really even gets started. This is why it's so important to be educated before your baby arrives.
There are lots of positive stories out there, but they can be much harder to find than the negative ones. Because of this, I'd like to collect breastfeeding stories to highlight on my website. Research tells us that the higher a woman's confidence in breastfeeding is, the more likely she is to meet her breastfeeding goals. Stories from others mothers who have had positive breastfeeding experiences, or (perhaps more importantly), stories from mothers who faced difficulty with breastfeeding but overcame those difficulties and went on to breastfeed successfully, can be inspiring and a source of hope for other mothers who are currently struggling. Even if you didn't end up exclusively feeding at breast, if you found a solution to your struggles that you were happy with and worked for your family, that's still success!
Please share your story, or leave some encouraging words for other mothers, in the comments below or e-mail me at fleur(at)nurturedchild(dot)ca. Help other breastfeeding moms by getting the word out that it is possible to meet your breastfeeding goals, even if you've had a rough start!
To read the stories that have been submitted so far, see Breastfeeding – You Can Do It!