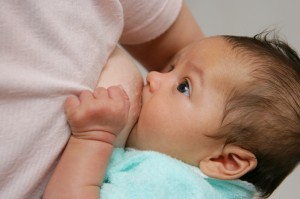 In my post about The Truth Behind Common Breastfeeding Myths, the following myth received a lot of comments on both my blog and on my Facebook page:
Myth: It's normal for breastfeeding to hurt. Truth: If breastfeeding  hurts something is wrong. Nursing may be a little uncomfortable during the early days as your body adjusts to a new sensation, but it should never be painful. Poor latch is the most common cause of pain in the early weeks, but there are other possibilities including sucking issues with baby from birth interventions or physical characteristics such as tongue-tie. If nursing hurts, get help as soon as possible. The earlier breastfeeding problems are addressed, the easier they are to fix. If you go to someone for help and the problem isn't solved, keep trying until you find someone with the knowledge and experience to help.
A number of people have responded to say that they disagree with this, and that breastfeeding for them hurt for the first few weeks even though they had been told that nothing was wrong. A couple of comments on my blog pointed out that pain with breastfeeding is common with hormonal changes during pregnancy and ovulation, and asked why would this be different in the postpartum period? It's an interesting question, and I don't have a good answer. It's certainly a possibility, and obviously everyone has a different pain threshold. The hormonal makeup of a mother after birth is different however than that of a mother who is pregnant or ovulating. It doesn't make sense biologically for breastfeeding to be painful. Breastfeeding is supposed to be a pleasurable experience so that we'll keep doing it to ensure that our species survives.
From my perspective as an RN and IBCLC, pain when breastfeeding indicates a problem. Breastfeeding can certainly be uncomfortable in the early days, but I strongly feel that it shouldn't hurt. When assessing latch, it is really important to remember that a good latch is defined by how it feels, not by how it looks. Sometimes a baby's latch can look perfect from the outside, but something is going on inside the baby's mouth that is causing the pain.
Latch is very important, but so is a baby's ability to suck effectively. I frequently see moms and babies where mom is experiencing pain and yet she has been told by someone else that her latch "looks perfect" and "nothing is wrong, your nipples just need to toughen up". Usually in these cases something is going on in baby's mouth that is causing the pain for mom. Tongue and/or lip-tie are a common cause, but another cause that is far less obvious is a sucking issue related to the birth process and/or baby's position in utero. Birth interventions can have a huge impact on a baby's ability to suck effectively. Vacuum and forceps in particular almost always result in sucking issues. Think about how you would feel if you were stuck in a small space and someone stuck a vacuum on your head, or grabbed your head in a pair of vice grips and pulled! Your head would hurt! Vacuum and forceps can cause irritation to a baby's cranial nerves, and those nerves control the jaw and tongue, so it's not surprising that those interventions tend to cause some issues with sucking. I also see sucking issues with C-sections, very quick deliveries, deliveries where there has been a very long pushing phase and sometimes the issues seem to be related to muscle tension in the baby that has likely been caused by their position in utero.
Sucking issues are not always obvious, and they usually require someone knowledgeable to identify them. Even issues such as tongue-tie are often missed by health care providers. Thankfully, sucking issues caused by birth interventions can usually be resolved with time spent breastfeeding and/or body work such as craniosacral therapy. They can however, cause a lot of pain for mom in the mean time even though everything looks "right" from the outside. So what do we do? Some people feel that telling women that breastfeeding shouldn't hurt is doing them a disservice because it causes them to think that they're doing something wrong if it does hurt. For most women however, pain indicates that something is wrong, although it may be something that baby is doing rather than anything the mom is or isn't doing. It's hard to know what is the best approach – do we tell moms that breastfeeding might hurt and encourage them to persevere through it, despite the fact that we then run the risk of moms not seeking help soon enough when there really is a problem, or do we say that it shouldn't hurt so women know to seek help?
What do you think?